Fungal infections
If you have ever had athlete's foot or a yeast infection, you can blame a fungus. A fungus is actually a primitive vegetable. Mushrooms, mold and mildew are examples. Fungi live in air, in soil, on plants and in water. Some live in the human body. Only about half of all types of fungi are harmful.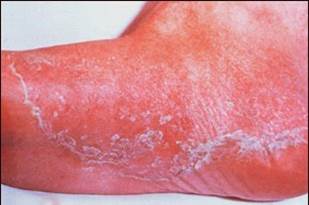 This is a picture of Athlete's foot (tinea pedis). "Tinea" infection is caused by a fungus that grows on the skin, and is also referred to as ringworm. Cutaneous (skin) tinea infections are often named by their location such as pedis, meaning foot.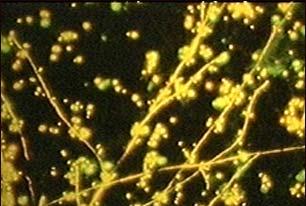 This microscopic film shows a fluorescent stain of Candida. Candida is a yeast (fungus) that causes mild disease, but in immunocompromised individuals it may cause life-threatening illness. (Image courtesy of the Centers for Disease Control and Prevention.)
Some fungi reproduce through tiny spores in the air. You can inhale the spores or they can land on you. As a result, fungal infections often start in the lungs or on the skin. You are more likely to get a fungal infection if you have a weakened immune system or take antibiotics.
Fungi can be difficult to kill. For skin and nail infections, you can apply medicine directly to the infected area. Oral antifungal medicines are also available for serious infections.
Source: http://www.nlm.nih.gov/medlineplus/fungalinfections.html
Information presented on this website is for general use. It intended to address issues of your concern. It is not intended to serve as a basis for professional diagnosis and treatment of diseases or health conditions.
Should you have health problems we suggest you to seek assistance from a licensed healthcare professional and medical organization. In the case of a medical emergency, please call emergency services immediately.