Henoch-Schonlein purpura
Henoch-Schonlein purpura is a disease that involves purple spots on the skin, joint pain, gastrointestinal problems, and glomerulonephritis (a type of kidney disorder).
CAUSES
Henoch-Schonlein is caused by an abnormal response of the immune system. It is unclear why this occurs.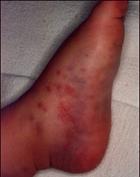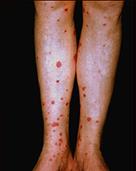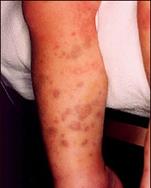 The syndrome is usually seen in children, but it may affect people of any age. It is more common in boys than in girls. Many people with Henoch-Schonlein purpura had an upper respiratory illness in the weeks before.
SYMPTOMS
Abdominal pain

Joint pain

Purple spots on the skin (purpura), usually over the buttocks, lower legs, and elbows

Bloody stools

Hives or angioedema

Nausea

Diarrhea

Painful menstruation

Vomiting
EXAMS AND TESTS
The doctor will examine your body and look at your skin. The physical exam will reveal skin sores (lesions) and joint tenderness.
Tests may include:
TREATMENT
There is no specific treatment. Most cases go away on their own without treatment. If symptoms persist, your doctor may recommend therapy with corticosteroids such as prednisone.
OUTLOOK (PROGNOSIS)
The disease usually gets better on its own without treatment.
POSSIBLE COMPLICATIONS
Bleeding inside the body

Kidney problems (in rare cases)
WHEN TO CONTACT A DOCTOR
Call for an appointment with your health care provider if:
You develop symptoms of Henoch-Schonlein purpura, particularly if they last for more than a few days

You have low urine output after an episode of Henoch-Schonlein purpura
Sourse: http://www.nlm.nih.gov/medlineplus/ency/article/000425.htm
Information presented on this website is for general use. It intended to address issues of your concern. It is not intended to serve as a basis for professional diagnosis and treatment of diseases or health conditions.
Should you have health problems we suggest you to seek assistance from a licensed healthcare professional and medical organization. In the case of a medical emergency, please call emergency services immediately.