Peyronie's disease
Contents
What causes Peyronie's disease?
What can I do about the curve in my penis?
Peyronie's (say: "pay-rone-ees") disease is the name for a sharp curve in the penis. In some men, Peyronie's disease is a mild problem without symptoms. Other men who have Peyronie's disease may have pain during erection or erections that aren't hard enough for sex.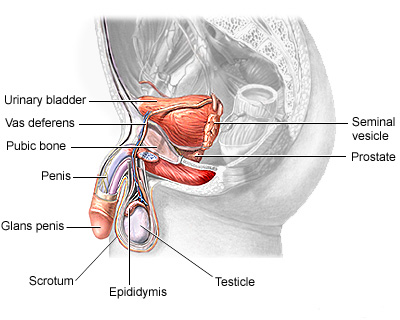 The male reproductive structures include the penis, the scrotum, the seminal vesicles and the prostate.
Scar tissue under the skin of the penis causes the curve. No one knows why the scar tissue starts. Some men who have Peyronie's disease have had a penis injury that causes scar tissue. The scar tissue feels like a ridge or a row of tiny bumps. The scar tissue can keep getting worse during the first few years, making the penis curve more and more. You might notice this more during an erection. After a few years, the scar tissue usually stops getting worse, but it doesn't go away.
There is no cure for Peyronie's disease. Medicines like aminobenzoate potassium or vitamin E help some men. Aminobenzoate potassium is a prescription medicine. Vitamin E is available over the counter. If you take vitamin E, don't take more than your doctor tells you. Too much vitamin E won't help you with your problem. Too much vitamin E or aminobenzoate potassium can hurt your liver. Aminobenzoate potassium can also make you nauseous or take away your appetite.
Another treatment option is an intralesional injection. This means the doctor would give you a shot directly into the scar tissue. The shot contains the drug verapamil. Verapamil may help break down the scar tissue and allow new tissue to grow. These shots are usually given over 3 months.
Surgery might help men who have pain during erection or men who can't keep an erection long enough to have sex. There are several surgical procedures that can help. One option is to have a prosthesis (something to make the penis firm) put in the penis. The prosthesis helps make the penis straighter. It also helps erections last longer. Another option is to have the scar tissue removed from the penis. Your doctor can explain all surgical options and can help you decide which is best for you.
Information presented on this website is for general use. It intended to address issues of your concern. It is not intended to serve as a basis for professional diagnosis and treatment of diseases or health conditions.
Should you have health problems we suggest you to seek assistance from a licensed healthcare professional and medical organization. In the case of a medical emergency, please call emergency services immediately.