Pyloric stenosis
Contents
When to Contact a Medical Professional
Pyloric stenosis is a narrowing of the pylorus, the opening from the stomach into the small intestine.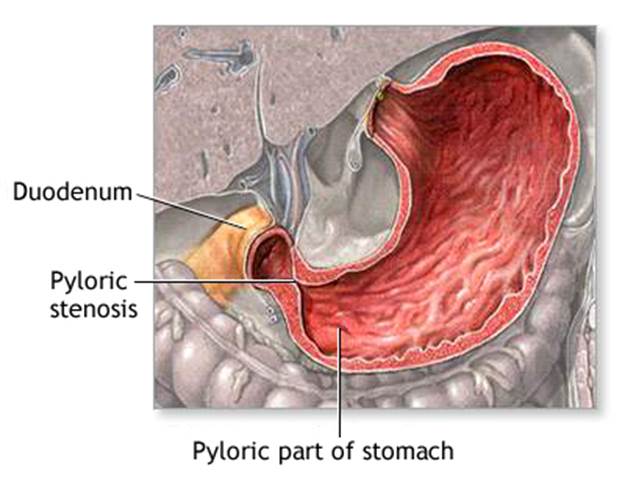 Normally, food passes easily from the stomach into the first part of the small intestine through a valve called the pylorus. With pyloric stenosis, the muscles of the pylorus are thickened. This prevents the stomach from emptying into the small intestine.
The cause of the thickening is unknown. Genes may play a role, since children of parents who had pyloric stenosis are more likely to have this condition.
Pyloric stenosis occurs most often in infants younger than 6 months. It is more common in boys than in girls. 
Vomiting is the first symptom in most children:
Vomiting may occur after every feeding or only after some feedings
Vomiting usually starts around 3 weeks of age, but may start any time between 1 week and 5 months of age
Vomiting is forceful (projectile vomiting)
The infant is hungry after vomiting and wants to feed again
Other symptoms appear several weeks after birth and may include:
Abdominal pain
Burping
Constant hunger
Dehydration (gets worse as vomiting gets worse)
Failure to gain weight or weight loss
Wave-like motion of the abdomen shortly after feeding and just before vomiting occurs
The condition is usually diagnosed before the baby is 6 months old.
A physical exam may reveal:
Signs of dehydration, such as dry skin and mouth, less tearing when crying, and dry diapers
Swollen belly
Olive-shaped mass when feeling the upper belly, which is the abnormal pylorus
Ultrasound of the abdomen may be the first imaging test. Other tests that may be done include:
Treatment for pyloric stenosis involves surgery to widen the pylorus. The surgery is called pyloromyotomy.
If putting the infant to sleep for surgery is not safe, a device called an endoscope with a tiny balloon at the end is used. The balloon is inflated to widen the pylorus.
In infants who cannot have surgery, tube feeding or medicine to relax the pylorus is tried.
Surgery usually relieves all symptoms. As soon as several hours after surgery, the infant can start small, frequent feedings.
Call your health care provider if your baby has symptoms of this condition.
Congenital hypertrophic pyloric stenosis; Infantile hypertrophic pyloric stenosis; Gastric outlet obstruction
Information presented on this website is for general use. It intended to address issues of your concern. It is not intended to serve as a basis for professional diagnosis and treatment of diseases or health conditions.
Should you have health problems we suggest you to seek assistance from a licensed healthcare professional and medical organization. In the case of a medical emergency, please call emergency services immediately.