Lymphoma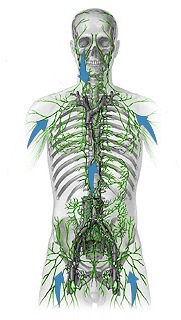 The lymph system is a network of lymph nodes, lymph ducts, lymph vessels, and organs that produce and move a fluid called lymph from tissues to the bloodstream.
The lymph glands, or nodes, are small structures that filter the lymph fluid. There are many white blood cells in the lymph nodes to help fight infection.
Lymphoma is a cancer of a part of the immune system called the lymphatic system. There are many types of lymphoma. One type is called Hodgkin disease. The rest are called non-Hodgkin lymphoma.
Non-Hodgkin lymphomas begin when a type of white blood cell, called a T cell or B cell, becomes abnormal. The cell divides again and again, making more and more abnormal cells. These abnormal cells can spread to almost any other part of the body. Most of the time, doctors can't determine why a person gets non-Hodgkin lymphoma.
Hodgkin disease
Hodgkin disease is a type of lymphoma. Lymphoma is cancer of lymph tissue found in the lymph nodes, spleen, liver, and bone marrow. The first sign of Hodgkin disease is often an enlarged lymph node. The disease can spread to nearby lymph nodes. Later it may spread to the lungs, liver or bone marrow. The cause is unknown.
Hodgkin disease is rare. Symptoms include
Painless swelling of the lymph nodes in the neck, armpits, or groin
Fever and chills
Night sweats
Weight loss
Loss of appetite
Itchy skin
Doctors can diagnose Hodgkin disease with a biopsy. This involves removing and examining a piece of tissue under a microscope. Treatment varies depending on how far the disease has spread and often includes radiation therapy or chemotherapy.
The earlier the disease is diagnosed, the more effective the treatment. In most cases, Hodgkin disease can be cured.
Non-Hodgkin's lymphoma
Non-Hodgkin's lymphoma is cancer of the lymphoid tissue, which includes the lymph nodes, spleen, and other organs of the immune system.
CAUSES
White blood cells called lymphocytes are found in lymph tissues. They help prevent infections. Most lymphomas start in a type of white blood cells called B lymphocytes, or B cells.
For most patients, the cause of this cancer is unknown. However, lymphomas may develop in people with weakened immune systems. For example, the risk of lymphoma increases after an organ transplant or in people with HIV infection.
There are many different types of non-Hodgkin's lymphoma (NHL). It is grouped according to how fast the cancer spreads.
The cancer may be low grade (slow growing), intermediate grade, or high grade (fast growing). Burkitt's lymphoma is an example of a high-grade lymphoma. Follicular lymphoma is a low-grade lymphoma
The cancer is further grouped by how the cells look under the microscope, for example, if there are certain proteins or genetic markers present.
A person has a 1 in 50 chance of developing non-Hodgkin's lymphoma. NHL most often affects adults. However, children can get some forms of lymphoma. You are more likely to get lymphoma if you have a weakened immune system or have had an organ transplant.
This type of cancer is slightly more common in men than in women.
SYMPTOMS
Symptoms depend on what area of the body is affected by the cancer and how fast the cancer is growing.
Symptoms may include:
Night sweats (soaking the bedsheets and pajamas even though the room temperature is not too hot)
Fever and chills that come and go
Itching
Swollen lymph nodes in the neck, underarms, groin, or other areas
Weight loss
Coughing or shortness of breath may occur if the cancer affects the thymus gland or lymph nodes in the chest, which may put pressure on the windpipe (trachea) or other airways.
Some patients may have abdominal pain or swelling, which may lead to a loss of appetite, constipation, nausea, and vomiting.
If the cancer affects cells in the brain, the person may have a headache, concentration problems, personality changes, or seizures.
EXAMS AND TESTS
The doctor will perform a physical exam and check body areas with lymph nodes to feel if they are swollen.
The disease may be diagnosed after:
Biopsy of suspected tissue, usually a lymph node biopsy
Bone marrow biopsy
Other tests that may be done include:
Blood test to check protein levels, liver function, kidney function, and uric acid level
Complete blood count (CBC)
CT scans of the chest, abdomen and pelvis
Gallium scan
PET (positron emission tomography) scan
If tests reveal you do have cancer, additional tests will be done to see if it has spread. This is called staging. Staging helps guide future treatment and follow-up and gives you some idea of what to expect in the future.
TREATMENT
Treatment depends on:
The type of lymphoma
The stage of the cancer when you are first diagnosed
Your age and overall health
Symptoms, including weight loss, fever, and night sweats
Common treatments:
Radiation therapy may be used for disease that is confined to one body area.
Chemotherapy is the main type of treatment. Most often, multiple different drugs are used in combination together.
Another drug, called rituximab (Rituxan), is often used to treat B-cell non-Hodgkin's lymphoma.

Radioimmunotherapy may be used in some cases. This involves linking a radioactive substance to an antibody that targets the cancerous cells and injecting the substance into the body.
People with lymphoma that returns after treatment or does not respond to treatment may receive high-dose chemotherapy followed by a bone marrow transplant (using stem cells from yourself).
Additional treatments depend on other symptoms. They may include:
Transfusion of blood products, such as platelets or red blood cells
Antibiotics to fight infection, especially if a fever occurs
During treatment, you and your health care team may need to manage other concerns.
OUTLOOK (PROGNOSIS)
Low-grade non-Hodgkin's lymphoma usually cannot be cured by chemotherapy alone. However, the low-grade form of this cancer progresses slowly, and it may take many years before the disease gets worse or even requires any treatment.
Chemotherapy can often cure many types of high-grade lymphoma. However, if the cancer does not respond to chemotherapy drugs, the disease can cause rapid death.
POSSIBLE COMPLICATIONS
Autoimmune hemolytic anemia
Infection
Side effects of chemotherapy drugs
 WHEN TO CONTACT A MEDICAL PROFESSIONAL
Call your health care provider if you develop symptoms of this disorder.
If you have non-Hodgkin's lymphoma, call your health care provider if you experience persistent fever or other signs of infection.
Information presented on this website is for general use. It intended to address issues of your concern. It is not intended to serve as a basis for professional diagnosis and treatment of diseases or health conditions.
Should you have health problems we suggest you to seek assistance from a licensed healthcare professional and medical organization. In the case of a medical emergency, please call emergency services immediately.